Every March, Vancouver Island is proud to present the Pacific Rim Whale Festival! The festival centres around the West Coast townships of Tofino and Ucluelet. The 2011 festival will be held from March 19-27.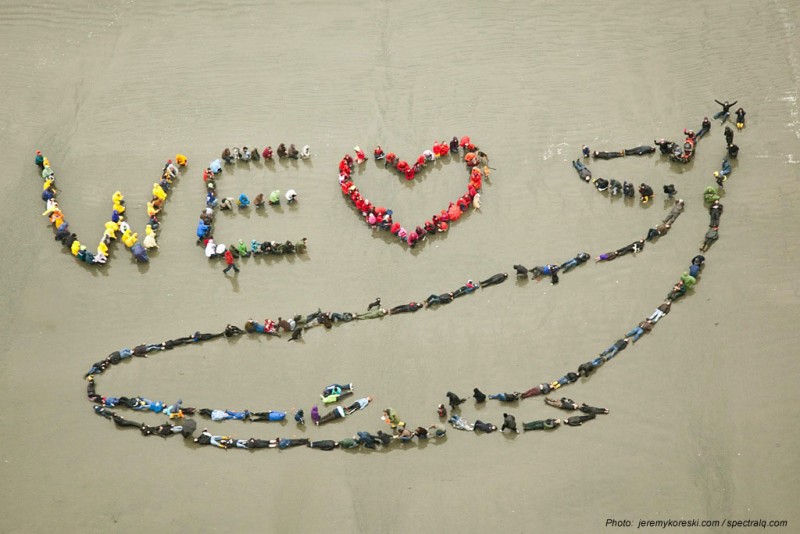 We HEART Whale! project on MacKenzie Beach. Photo by Jeremy Koreski (jeremykoreski.com) and Spectral Q
---
What they're saying about the 2011 Whale Festival
Keeping in mind that it's not everyone's cup of tea to take up a sea-faring adventure and be confronted with the enormity and charm of a grey whale, the Whale Festival offers up a varied platter of over seventy-five events – many free of charge – that aim to educate, inspire, and raise the spirits of the young & young-at-heart. Expect live music, culinary competitions, children's fun-fairs, art and hands-on education. – pacificrimwhalefestival.com
---
What's on at this year's festival?
This year will see the return of the Chowder Chowdown as well as the first Martini Migration.
For a complete calendar of all the events at this year's festival, visit: pacificrimwhalefestival.com/events
---
Stay up to date on the festival.
The Pacific Rim Whale Festival has a social media presence this year! To stay up to date on any changes in scheduling or activities, feel free to use the links below to follow the
Follow PRWF on Twitter
Friend PRWF on Facebook
---
More about the Whale Festival
It's an all-out celebration of our coastal lives! It's about grey whale and marine life education, inspirational talks and interpretive walks, children's fun for the small and culinary events for the tall, First Nations cultural workshops and more – come and experience a coastal tradition!
While you're here, walk a few miles of sandy beach, explore the nooks and crannies of the intertidal zone, and lose yourself in the lushness of one of the worlds most significant regions of coastal temperate rainforest.