Getting here:
The first thing you need to do is decide how you are going to travel. The Tofino Airport is located 20 minutes from the resort if you wish to fly direct. If you prefer to drive, there are several ferry routes to Vancouver Island. If you wish to leave the driving to someone else, there are bus or limousine services available.
If you wish to explore Vancouver Island you can also fly to Victoria, Nanaimo or Comox and drive from there.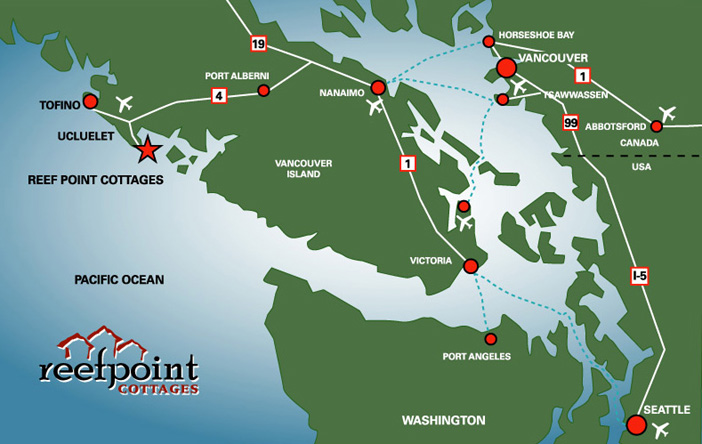 Flying to Vancouver Island
There are direct flights to the Tofino Airport from Vancouver, Victoria and Seattle and you can rent a car at the airport if desired. For more information, please check out the following links:
Craig Air
Reservations: 1-877-866-3466
Budget Car Rentals
Ph: 1-250-725-2060
If you feel adventurous and would like a float plane trip direct to Ucluelet Harbour, (a mere 2 minutes from the resort) contact:
Westcoast Wild Adventures
Ph: 1-877-992-9453
Ph: 1-250-726-7715
If you wish to explore more of British Columbia while on your holidays, you may decide to fly into one of these other airports and make your way to the resort from there:
Vancouver – YVR
Victoria – YYJ
Nanaimo – YCD
Comox – YQQ
---
The Bus
A great way to travel from Victoria or Nanaimo to Ucluelet is the Tofino Bus
---
Driving to BC Ferries
For instructions on finding BC Ferries Major Terminals from Vancouver and the Lower Mainland, Whistler and the United States click here.
---
Driving to Vancouver Island
If you are driving to Vancouver Island, you will need to take a ferry. There are several options available, depending upon where you are traveling from.
From Vancouver there are three different routes available from BC Ferries to either Nanaimo or Sidney (near Victoria). Check them out at BC Ferries
From Port Angeles, Washington you can take a ferry to Victoria. Check them out the Coho Ferry
From Anacortes, Washington you can take a ferry to Sidney (near Victoria). Check them out at Washington State Ferries
---
Driving to Reef Point Cottages
Once you are on Vancouver Island, you will need to drive to the resort. The Island Highway runs the entire length of Vancouver Island from Victoria to Port Hardy along the east coast of the island. The route to the West Coast is via Hwy 4 with an exit just north of Parksville.
Depending on your arrival to Vancouver Island, proceed north on Hwy 1 (from Victoria) and then Hwy 19 past Nanaimo to the Hwy 4 Exit to Port Alberni. Drive through Port Alberni and continue to follow the signs to Ucluelet/Tofino. 1 ¼ hours past Port Alberni you will reach the Tofino/Ucluelet junction on the West Coast of the Island. Turn left on the Tofino/Ucluelet Highway with only 8 kilometres to go.
This Hwy turns into Peninsula Road as you drive through Ucluelet. Continue south past the Co-op and upon reaching the new development of Reef Point Beach Estates on the right, you will encounter Reef Point Cottages on the left. The check-in center is at the corner of Peninsula Road and Boardwalk Boulevard. See you there.
You should always check the weather and road conditions before leaving as the road to the west coast is windy as you drive through steep mountain passes.